Sveiki atvykę į PITTA multisensorinį ritualą.
Atraskite liniją per penkis pojūčius ir vadovaukitės jais, kad patirtumėte visą, gerovės apimančią harmonijos ir pusiausvyros atkūrimo patirtį. Neskubėkite: raktas į grožį slypi jumyse, čia pat, jūsų emocijų šaknyse.
Klausykite ir atsipalaiduokite su mėlyna meditacija.
Jei turite problematišką viršutinę veido dalį (kaktą, smilkinius, paakius), naudokite indiško baziliko arba ylang-ylang eterinį aliejų. Kita vertus, jei jūsų problema yra labiau centrinėje srityje (skruostai, nosis), jums tinkami eteriniai aliejai yra ramunėlių ir santalų. Jei dirginimas sutelktas ant smakro, burnos, kaklo – rinkitės vetiverių, pačiulių arba Sugandha Kokila eterinį aliejų.
Užlašinkite kelis lašus eterinio aliejaus ant rankų ir sušildykite jas greitai trindami, tada pritraukite prie veido jo neliesdami. Atlikite tai užsimerkę, penkis kartus iškvėpdami ir lėtai įkvėpdami.
Šie eteriniai aliejai padės ir dieną: jie puikiai tinka ir sklaidosi.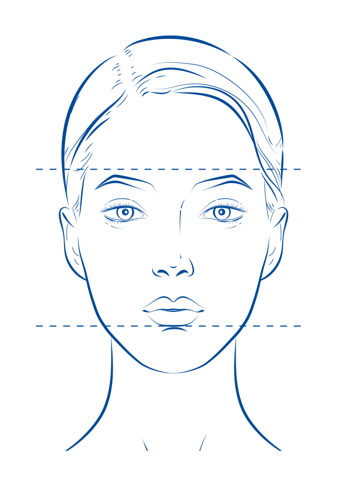 Psichodermatologijoje puikiai žinoma, kad stresas ir kitos psichologinės ligos daro įtaką tokioms ligoms, kaip psoriazė, įvairūs bėrimai, egzema, niežulys, dilgėlinė ir kitos odos problemos. Dermatologinių problemų sukeliamos neigiamos emocijos tik pablogina odos problemas.
Kakta:
Jei uždegimas yra ant kaktos, smilkinių ar paakių: kakta yra apmąstymų, rūpesčio ir abejonių vieta. Visų pirma, akys yra žvilgsnio, stebėjimo teritorija, kurioje slypi požiūris į gyvenimą, analizes ir sprendimus. Somatizavimas šioje srityje rodo, kad jūs samprotaujate arba svarstote savo požiūrį į pasaulį.
Skruostai:
Jei uždegimas yra ant skruostų, srityje iki nosies: tai rodo mūsų emocijas, pavyzdžiui – meilė, desperacija, įniršis. Uždegimas ant nosies (uoslė) rodo mūsų gebėjimą uosti ir orientuotis – aplinka, su kuria susiję pojūčiai ir emocijos, kurias jaučiame.
Somatizavimas šioje srityje rodo, kad yra per daug kontrolės: jūs negalite transformuoti emocijų. Psichosomatikoje ši sritis siejama su transformacijos organais (skrandžiu, kepenimis ir kt.).
Smakras:
Jei uždegimas yra ant smakro, burnos, kakli iki dekoltė: ši sritis yra susijusi su seksualumu ir hormonais. Somatizavimas šioje srityje rodo, kad yra kažkokia problema, susijusi su jūsų gebėjimu mėgautis gyvenimu ir malonumais. Hormonų disbalansas taip pat yra susijęs su antrąja čakra ir rodo nesugebėjimą džiaugtis gyvenimu, gyventi su malonumais, o ne su pareigomis.
Taikydami paprastus manualinius metodus padėsime stimuliuoti tą pėdos dalį, susijusią su jausmais ir emocijomis, kurios liejasi veide ir tam tikrose srityse. Tai tenso-padų refleksologija, kurios nurodymus dabar pateikiame.
Jauskitės patogiai: pradėkite nuo gražios pėdų vonios, kad sumažintumėte dienos įtampą.
Dabar atsisėskite ant lovos ar sofos ir rankomis suimkite kojas: įgūdžius galite lavinti abiem kojomis vienu metu.
Įsivaizduokite savo pėdos padą tarsi veidą ir mintyse padalykite jį į tris dalis: viršutinė pėdos dalis bus susieta su kakta, vidurinė dalis su skruostais, apatinė su burna, smakru ir gerklės. Priklausomai nuo to, ar jūsų problema kyla ant veido vienoje iš šių trijų sričių, sutelkite dėmesį į tą ir atlikite akupresūrą. Nykščiu imituokite antspaudo judesį, dabar švelniai spauskite tvirčiau ir būtinai spauskite iš vienos vietos pusės į kitą. Padarykite tai kelis kartus.
Uždegimą taip pat galima išspręsti pasitelkus gamtą. Tisama Lakshmi Brucior ramina nuo visų tipų uždegimų ir gali būti naudojamas esant jautriai odai, rožinei ir spuogams. Pagaminta iš šaltų augalų ekstraktų, visiškai be alkoholio ir gauta iš ekologiškų auginimo būdų, tai tikras grožio ir sveikatos eliksyras. Ramunėlės, Altėja, Melisa, Angelica, žvaigždinis anyžius, medetkos veikia sinergiškai, kad sumažintų uždegimo lygį.
Rekomenduojame vartoti Tisama Brucior sezoninių pokyčių metu, užgeriant puse litro vandens, 20 ml (1 matavimo dangtelis) suvartoti per dieną, kad uždegimą numalšintume iš vidaus. Kitomis savaitėmis Tisama dozę reikia palaipsniui padvigubinti iki daugiausiai 80 ml (atitinka 4 matavimo dangtelius), visada ištirpinant pusantro litro vandens, kad būtų galima išgerti per dieną.
Neviršykite rekomenduojamų dozių. Daugiau informacijos teiraukitės savo patikimo kosmetologo Lakshmi.
Jei, be uždegimo, yra kuperozė ir kapiliarų problema – rekomenduojame Tisama Legs, kurios mėsinės šluotos ir raudonojo vynmedžio dėka, pagerins mikrocirkuliaciją su priešuždegiminiu ir sutraukiančiu veikimu kapiliarų lygyje.