Luister en ontspan met blauwe meditatie.
Afhankelijk van het feit of uw pad Sensitive (als u geen verergering van ontstekingen heeft) of Regenesis (medisch hulpmiddel te gebruiken in pieken van ontstekingen) is, kunt u uzelf helpen met aormatherapie: etherische oliën zijn de ziel van planten en dragen specifieke informatie in zich. Als uw probleem zich op het bovenste deel van het gezicht manifesteert (voorhoofd, slapen, onder de ogen), gebruik dan Indische Basilicum of Ylang-ylang. Als het meer op het centrale gebied zit (wangen, neus), zijn uw essentiële oliën Roomse kamille en Sandelhout. Als in plaats daarvan de irritatie zich concentreert op de kin, mond, hals, kies dan Vetiver, Patchouli of Sugandha Kokila.
Breng een paar druppels etherische olie aan op uw handen en warm ze op door ze snel tegen elkaar te wrijven, breng ze dan dicht bij uw gezicht zonder het aan te raken. Doe dit door je ogen te sluiten, vijf keer langzaam uit te ademen en weer in te ademen.
Deze essentiële oliën helpen je ook de hele dag door: ze zijn ook perfect om te verstuiven.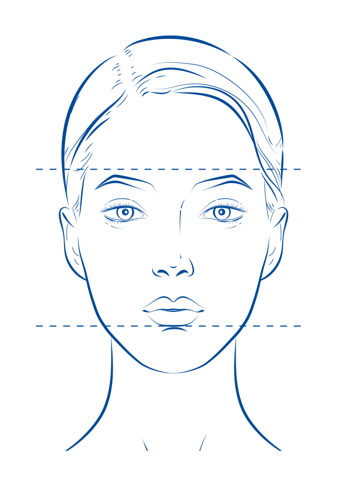 Als het spreekt, liegt het lichaam niet. De taal is oeroud, bestaat al eeuwig en is voorbestemd om nooit te sterven. In de psychodermatologie is de rol bekend die stress en andere psychologische problemen spelen bij ziekten zoals acne, psoriasis, eczeem, jeuk, netelroos en andere huidproblemen: de negatieve emoties die door dermatologische problemen worden opgewekt, verergeren de huidproblemen alleen maar, waardoor een vicieuze cirkel ontstaat.
Beweeg de schuif en ontdek de emotie achter uw probleem.
Voorhoofd:
Als de ontsteking zich in dit gebied van het gezicht bevindt (voorhoofd, slapen, onder de ogen), wijst dit op EXAMINATIE en OORLOG. Het voorhoofd is een plaats van bezinning, bezorgdheid en twijfel. In het bijzonder zijn de ogen het terrein van de blik, van de observatie, waar de benadering van het leven wordt ervaren onder de lens van analyse en oordeel.
Somatiseren op dit gebied geeft aan dat u redeneert of piekert in uw benadering van de wereld.
Wangen:
Als de ontsteking in dit gebied van het gezicht zit (wangen, gebied tot onder de neus) duidt dit op een deel dat onze emotionele capaciteit uitdrukt zoals LIEFDE, WANGERIGHEID, Woede. Ook de neus is erbij betrokken, dus de reukzin, waarvan ons vermogen om "de lucht te ruiken" en ons te oriënteren afhangt. Het is onze FLOW, de sensaties, de emoties die ermee verbonden zijn die we voelen.
Somatiseren op dit gebied geeft aan dat er te veel controle is: je kunt je emoties niet transformeren. In de psychosomatiek wordt dit gebied geassocieerd met de organen van transformatie (maag, lever, enz.).
Chin:
Als de ontsteking zich in dit deel van het gezicht bevindt (kin, mond, hals tot aan het decolleté), is het verbonden deel een intieme en diepe dimensie. Dit gebied is verbonden met archaïsche impulsen: HONGER, AGGRESSIVITEIT, PLEZIER. Het houdt dus ook verband met SEXUALITEIT en HORMONEN. Somatisatie op dit gebied wijst erop dat er een probleem is dat op de een of andere manier verband houdt met uw vermogen om van het leven en van genoegens te genieten. Hormonale onevenwichtigheden worden ook in verband gebracht met het tweede chakra, en wijzen op een onvermogen om veranderingen op een positieve manier te ervaren, om van het leven te genieten, om te leven van genoegens in plaats van altijd maar plichten te hebben.
Door middel van eenvoudige manuele technieken zullen wij u helpen dat deel van de voet te stimuleren dat in verband staat met gevoelens en emoties die zich op uw gezicht ontplooien, niet toevallig op specifieke plaatsen. Dit is tenso-plantaire reflexologie, waarvan wij u nu aanwijzingen geven.
Maak het u gemakkelijk: begin met een lekker voetenbad om de spanningen van de dag te verlichten.
Ga nu op het bed of op de bank zitten en pak uw voeten vast met uw handen: u kunt de manuele vaardigheden oefenen op uw beide voeten, tegelijkertijd.
Stel u de voetzool voor alsof het een gezicht is en verdeel het mentaal in drie delen: het bovenste deel van de voet wordt dan geassocieerd met het voorhoofd, het middelste deel met de wangen, het onderste deel met de mond, kin en keel. Afhankelijk van het feit of uw probleem uw gezicht in één van deze drie gebieden beïnvloedt, concentreert u zich op dat gebied en voert u de digito-druk uit. Met uw duim simuleert u de beweging van een stempel, waarbij u nu eens zachtjes, dan weer sterker drukt, en erop let dat u druk uitoefent van de ene kant naar de andere kant van de behandelde zone.
Ontsteking kan ook worden aangepakt met de hulp van de natuur. Tisama Lakshmi Brucior heeft een verzachtende werking tegen alle soorten ontstekingen en kan worden gebruikt bij een gevoelige huid, rosacea en acne. Gemaakt met koude extracten van planten die volledig vrij zijn van alcohol en afkomstig zijn van gecontroleerde biologische teelt, is het een waar elixer van schoonheid en gezondheid. Kamille, heemst, citroenmelisse, engelwortel, steranijs en calendula werken in synergie om uw ontstekingsniveau te verlagen.
Wij raden u aan om Tisama Brucior tijdens de seizoenswisselingen in te nemen, in een halve liter water, 20 ml (1 maatdop), in te nemen gedurende de dag, om de ontsteking van binnenuit uit te schakelen. De dosis Tisama moet in de daaropvolgende weken geleidelijk worden verdubbeld tot een maximum van 80 ml (overeenkomend met 4 maatdoppen), steeds opgelost in anderhalve liter water om in de loop van de dag te drinken. De aanbevolen doses niet overschrijden. Voor meer informatie vraag uw vertrouwde schoonheidsspecialiste Lakshmi.
Als u naast ontstekingen ook couperose en kwetsbare haarvaten heeft, raden wij u Tisama Benen aan, dat dankzij Butcher's Broom en Red Vine de microcirculatie helpt met een ontstekingsremmende en samentrekkende werking op capillair niveau.